Strelitz Diabetes Center - EVMS - Interior
Strelitz Diabetes Center
Eastern Virginia Medical School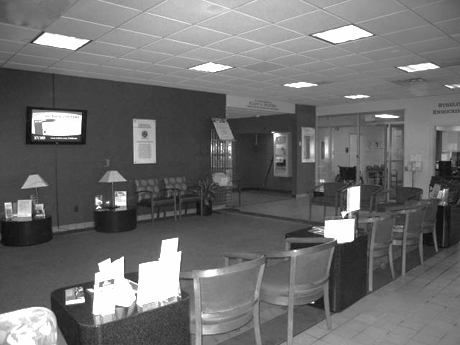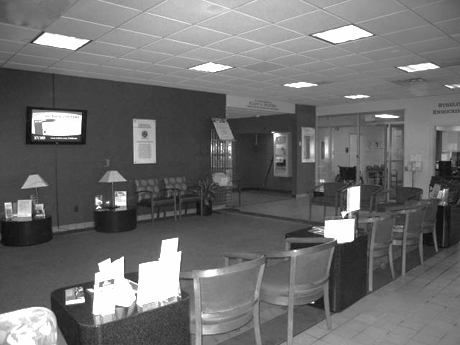 Comprised of a renowned international team of endocrinology experts, clinical providers, scientists and educators, Eastern Virginia Medical School's Strelitz Diabetes Research Center, Norfolk, Virginia is the facility of choice for patients with diabetes and other metabolic disorders in the Hampton Roads area. Dark, loud, moldy and malodorous, this two-story 47,000 square foot building originally built in the 1960's was in dire need of a complete gut and renovation.
Our intent with this project was to push beyond a simple update by transforming the entire feel of the building while still remaining within the scope of our client's needs. Just northwest of downtown Norfolk, Virginia, the site is located right off of West Brambleton Avenue, a high-volume road that connects downtown with the midtown tunnel towards Portsmouth, Virginia. In order to establish its own identity among the other medical buildings in the area, the facade needed to act as a counterpoint to the surrounding structures, portraying an image of a hi-tech research clinic.
A new entrance, complete with drop-off canopy was designed with contemporary flair. The building also needed to perform well in noise reduction and moisture reduction. The building's envelope of full height colored glass curtain walls mixed with modular insulated metal panels provided the necessary contemporary image and fulfilled the performance goals of thermal resistance, acoustics, and day lighting.
Starting with the main lobby, the interior architecture was also extensively modernized. The sick building syndrome, poor acoustics, and aesthetics of the space were corrected throughout. This was achieved by using mold-resistant and acoustic drywall, mineral wool insulation, and low VOC products.
Sustainable finish products and building components were utilized throughout. Taking full advantage of the new curtain wall design and aligning office interior storefront entrances with these windows allowed natural day lighting to infiltrate to the internal corridors. The internal departmental fl ow was restructured in groups versus the random disarray of the room prior.
Our final design sought to not only strengthen the everyday educational, clinical and research functions of the building, but also to provide Eastern Virginia Medical School with a building that serves to illustrate their commitment to their diabetes research and clinical program on an international level.